I have accepted an offer to be a music director for Second City Theatricals aboard a cruise ship.
When I was preparing to move to Chicago, people told me that this work existed, and that I'd have a good chance at it. Getting this gig was a short- to medium-term goal for me, and I'm pretty damn happy: it's a recognisable standard for music directors in Chicago and a great basis for landing future projects.
This contract is also a big reason I moved to the US: New Zealand doesn't have this volume of work for comedy music directors. Chicago really is the centre of the universe for the most niche skill I have.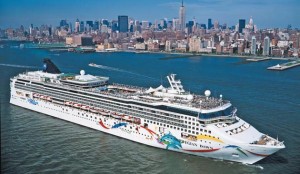 I will be on the Norwegian Dawn from 21 February to 29 July 2016, with a one-month hiatus while the ship is in dry dock. In the spring, I'll be plying my trade on the New Orleans-Cozumel-Roatán-Belize-Costa Maya-New Orleans route, and in the summer I'll do Boston-Bermuda-Boston.
This is great for a whole bunch of reasons:
– I've always wanted to work on a cruise ship – or even set foot on one. I've never had the chance up until now.
– Out of all the cities in the United States I haven't yet been to, the two highest on my list are New Orleans and Boston. And they're just landing in my lap!
– I get to do improv and sketch full-time… for a time.
– Free board, free food. I should be able to save money pretty well.
– I escape Chicago's winter in the middle of February. Yes please. Given that winter hasn't properly started yet and it's mid-December, it's probably going to last quite late into April & May. Glad to leave that behind.
In the meantime, I still have plenty going on in Chicago. Come to some of my shows!
Hitch*Cocktails: every Friday 10pm, The Annoyance Theater, It's an improvised Alfred Hitchcock-style thriller/drinking game. Tickets $20/$15, book here because we often sell out over the holidays.
VAMP: every Friday & Saturday 10:30pm, MCL Chicago. It's all short-form musical improv. I lead a four-piece band for Saturday night shows, and the rotation of improvising singers are freaking amazing. Tickets $15, book here including for my birthday VAMP on Saturday 12 December, and a free show we're videoing on Sunday 13 December.
The Great Annoyance Melodrama and Vaudeville Revue: Sundays 8pm, until 27 December, The Annoyance Theater. It's a traditionally hokey Christmas story about a small town, a tall tree, and a meddling villain. Written and directed by C.J. Tuor of Hitch*Cocktails fame, I'm the composer and music director.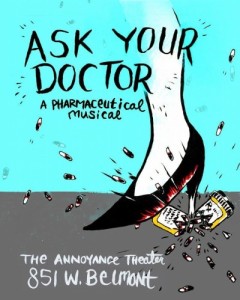 $12/$8, book here, it's family-friendly!
Ask Your Doctor: Thursdays 8pm, 7 January to 11 February, The Annoyance Theater. It's a brand new musical about pharmaceutical sales reps and the dodgy shit they do. Written and directed by Jillian Mueller, I'm the composer and music director. $20/$15, book here, we're currently in previews.
PlayGround Zero: Fridays 7:30, 8 January to 5 February, De Maat Studio, Second City. This is a Writing 6 graduation show, written by students who have done the full one-year course at the Second City Training Center. Directed by Aaron Sjöholm, I'm their music director and composer. $12, book here.
—
And I'll leave you with this video.