I am one of six participant composers in the APO's Town Hall Organ Composition Project. Yuss. We are each writing a piece for organ and orchestra – we've got three workshops this year, and a concert on 2 May 2013 23 May 2013. (Save the date.)
This is a joint venture of the Auckland Philharmonia Orchestra and the Auckland Town Hall Organ Trust. A week or so ago I had a tour of the instrument and saw the innards… probably not every single innard, but most of the 5,291 of them. Here's the back end of the console:

In due course I will blog further about this project, but for now I want to take you back in time to the application process in October 2011. I sketched this at my desk at work: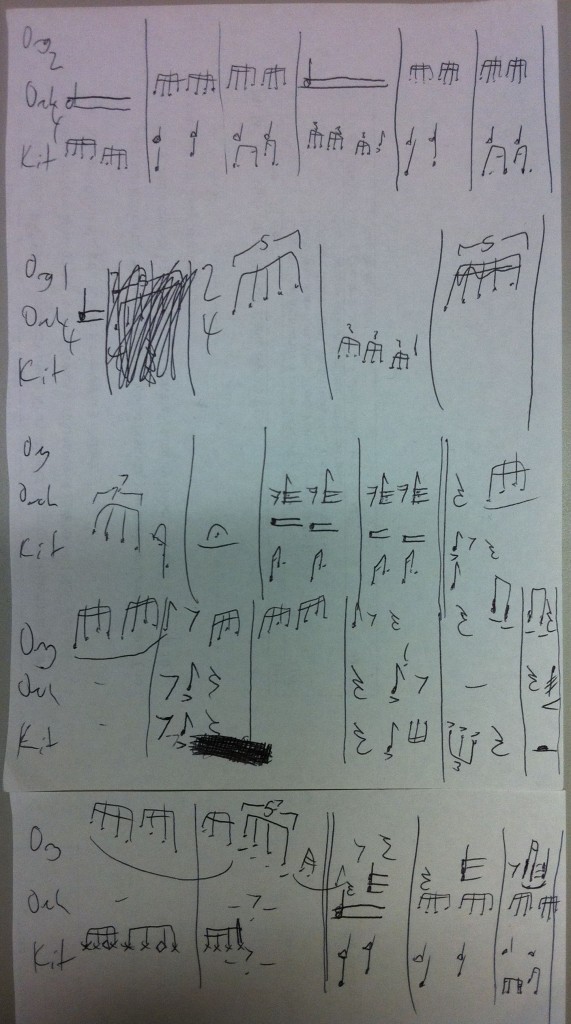 The above was my guide for the first of two a cappella mockups:
Organ & Orchestra Mockups by Robbie Ellis on SoundCloud
The call for proposals asked composers to give their ideas, and these audio snippets accompanied my application. They helped to illustrate my ideas as set out in my cover letter, reproduced below.
—-
Lee Martelli
Education Programme Manager, Auckland Philharmonia Orchestra
PO Box 56024
Dominion Rd
Auckland 1446
31 October 2011
Dear Lee,
I am writing to apply for a place in the 2012-2013 APO Composers' Workshop, to write a piece for organ and orchestra.
My connection to the APO goes back to my school days, with the Young Composers Competition and the New Zealand Secondary Schools Symphony Orchestra. As a participant in the 2010-2011 Composers' Workshop, I felt very fortunate to renew that connection, and I would be grateful to continue it in the next two years.
As the 2012 University of Otago Mozart Fellow, I will be in the fortunate position of being able to compose full-time, and I would love to be involved in this project. Although I am moving to Dunedin in January, I will be involved in several other North Island-based productions in 2012, so I will be able to attend workshops.
I have never written for organ before but, to be fair, few New Zealand composers have. My concept is to subvert its grandeur, and to set the king of (keyboard) instruments against the peasant of keyboard instruments. So far, I've come up with three ideas to incorporate into a 10-minute piece:
Organ and drum kit. I want to assign one of the percussionists to drum kit only. The kit will be a near-constant presence throughout the entire piece, playing in a heavy funk/rock/ironic bebop/dubstep/metal/Mr Bungle-like style. In parts, the work will seem like a double concerto, but it will never step over the line of having to pay a second soloist's fee. (That's what any good orchestra manager wants to hear, right?)
Creepy Southern Californian/Las Vegas horror music. Again in the vein of Mr Bungle, I want to make the Klais organ sound like a cheesy, seedy, louche rotary Hammond. It's as if a Southern Baptist church organist turned into a moral deviant, lived on the railroads for a couple of years with a bottle of Jack Daniels for company, and ended up in Vegas accompanying D-list Broadway performers in a shagpile-lined 70s nightclub. With more than a touch of lounge music and bossa nova, this isn't real Brazilian music. It's the Bastard Step-Child of Ipanema as interpreted by gringos who don't quite Getz it.
[redacted to retain the element of surprise]
Please listen to the attached CD [ed: the above SoundCloud embed] for massive multi-voice mock-ups of Points 1 and 2:
Track 1 is my idea for the opening of the piece. It's hard to tell what instrument is what (and to be fair, I don't know yet either), but the organ enters at 0:18.
Track 2 is an example of Creepy Southern Californian/Las Vegas horror music. In my vocal mockups, being in-tune is always a secondary consideration.
I can't give you confirmed instrumentation yet, this depends on how the piece turns out. I can tell you the following:
The piece will not exceed the stated instrumentation.
One percussionist will be on drum kit only.
I will use every brass player you make available to me.
There probably won't be a harp.
Ooh, a celeste. That sounds yummy.
Please find attached my application form and scores of two of my past orchestral works, Feral and Fanfare 10. This should suffice for my application, and I look forward to hearing the results of the selection process.
Yours sincerely,
[the not-so-elaborate scrawl that passes for my signature]
Robbie Ellis